Objective
Edit
Confront Jhan
Ritual Materials (5)
Construct the ritual materials needed to deal with the Order of the Mythos leader, Jhan. Meet up with the other Banishers at the suspected location of the Order's cultists. Defeat Jhan, if possible, and return to Ashlyn.
Banisher Ritual Materials (Finishing, Special, B Grade)
Banisher Workmen Shirt (Chest, +10 Reasoning, +10 Ingenuity, +33 Crafting Tool Use, 10, 15)
Banisher Workmen Pants (Legs, +7 Problem Solving, +16 Crafting Station Use, +11 Crafting Utility User, 3, 15)
Banisher Workmen Boots (Feet, +4 Ingenuity, +6 Crafting Station Use, +6 Crafting Utility Use, +6 Crafting Tool Use, 10, 15)

XP: 13520 (scales with your level)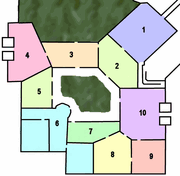 After crafting the 5 Ritual Materials, head to the Jhan location on your map. Exit the crafting square by the northeast gate. Head down the ramp and then the stairs to the left. Jhan is located at the foot of the stairs behind the Candlemaker in House Reminol.
When you get there, you will see that The Banishers have cornered Jhan and her minions. However, Jhan escapes. If you don't have a chance to talk to her before she disappears, return to The Banisher Santuary.
Community content is available under
CC-BY-SA
unless otherwise noted.