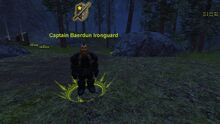 Objective
Edit
Return to Captain Baerdun Ironguard just outside of Shaletooth Tower.
Locations
Edit
Shaletooth Tower class Trainers
Rykarn Bloodstone (Light Figther Instructor)
Eldramir Greybeard (Spellcaster Instructor)
Maura Darkhammer (Healer Instructor)
Aerlund Golddhammer (Heavy Fighter Instructor)
40 Experience points in Adventure Class
Starting Dialogue
Edit
(Class Trainer) says,"that should do it. Report back to Captain Baerdun Ironguard as quickly as possible. there is much to be done to deal with the Gwartak."
Additional Dialogue
Edit
Concluding Dialogue
Edit
Detailed Information
Edit
The Class Trainers on the top floor of the nearby guard tower offer This quest. Send you back to Captian Baerdun Ironguard for more quest. Make sure you train your new level 2 abilities with the class archetype trainer.
Screenshots
Edit
Known Issues
Edit
Community content is available under
CC-BY-SA
unless otherwise noted.