Prev:Crafting Leveling Guide Main: Table of Contents Next: Crafting Titles
The main decision a crafter needs to make is which trade they will select. Each trade can produce different things and works with different materials.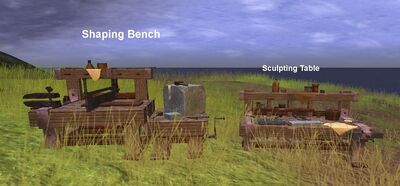 The artificer works with stone, wood, and gemstone. They can create all matters of wooden melee and ranged weapons, as well as a small amount of weapons made from stone. They can also create magical focii to increase the power of spellcasters (stone) and healers (wood). A few master artificers can also create magic carvings that bestow temporary magical gifts on their owners (invisibility, invisibility to undead, etc.).
Specializations
Edit
At level 11 Artificers can become
Artificers use shaping (refining) and sculpting (finishing)
Refining
Finishing
Utilities
Edit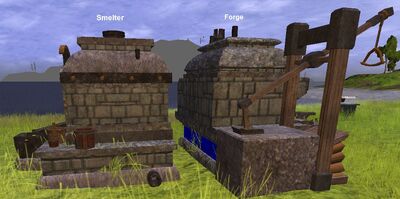 The blacksmith works mainly with metal, and includes the skills of weaponsmithing and armorsmithing. They make the vast majority of weapons, and fashion all types of heavy armor. Master blacksmiths may also create magical runes that provide temporary benefits to their owners.






Specializations
Edit
At level 11 Blacksmiths can become
Blacksmiths use Smelters (Refining) and Forges (Finishing) stations.
Finishing
Edit
Utilities
Edit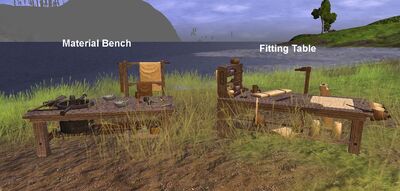 The outfitter deals in leather and cloth. They fashion all lighter armors (Tailors) and medium armor (Leatherworkers), and can create work clothing for harvesters and crafters. In addition to armor and work clothes, they can create bags, pouches, and normal clothing.






Specializations
Edit
At level 11 Outfitters can become
Outfitters use material (refining) and fitting (finishing) stations.
The tools used to process cloth and leather consist of the items below.
Refining
Finishing
Utilities
Edit
Community content is available under
CC-BY-SA
unless otherwise noted.