Objective
Edit
Impersonate a Gray Knight member by wearing the uniform given and attend the meeting. Speak to the Cartheon contact and attempt to learn information and sour relations. Meet Sharas Kamur back in New Targonor after the meeting has ended.
Locations
Edit
Executor Egress Spell (Teleport: New Targonor, Executor Headquarters)
Buckler Earring (Diplomacy, Ear, +10 Crafter, +5 Domestic, +5 Merchant, 10, 15)
Swordblade Earring (Diplomacy, Ear, +5 Academic, +5 Crafter, +10 Merchant, 10, 15)
Head to Bordinar's Cleft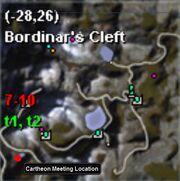 Community content is available under
CC-BY-SA
unless otherwise noted.