Objective
Edit
Dwarven Slaves Released (6)
Shackle Key (1)
Slay a Gwartak slaver and recover the shackle key that binds the dwarven slaves within the Gwartak Stronghold. Use the key to free thm from their Gwartak Captors. Return to Darra Nightbellow at Rille's Encampment once the task is complete.

Word has found its way to us that there are dwarves being held as slaves within this kobold stronghold. This is completely unacceptable...
Locations
Edit
XP: 281
Gwartak Slaver Level 6 (Humanoid, Kobold, 2 dot, aggro) drop Orders of Slavery
Starting Dialogue
Edit
Additional Dialogue
Edit
Concluding Dialogue
Edit
Detailed Information
Edit
Screenshots
Edit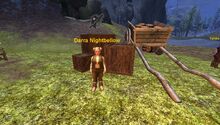 Community content is available under
CC-BY-SA
unless otherwise noted.