The mail system is a convenient way to send messages and goods around Telon. Mailboxes can be found in most towns and cities. Also, items purchased and the money from activities on the The Telon Exchange are delivered by the mail system.

Each continent has its own style of mailbox. However, you can send and retrieve your mail to/from any continent.

Interface
Edit
Inbox Tab
Edit
To read your mail, just click the message and the message window will appear.
If there an attachment (money and/or goods), click the attachment to transfer it into your inventory. Once you retrieve the items, the delete button will appear. Note: Items can be shipped COD (Cash on Delivery) and when you accept the item, the amount will be removed from your character.
If you do not want an item sent to you, you can click the return button to send it back to the sender.
Unread messages will be available in your inbox for 14 days. The time remaining will appear in the inbox to the right of the title. After opening the message, the message will remain in your inbox for 4 days before being deleted.
Compose Tab
Edit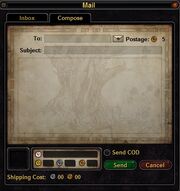 The compose tab is how you send messages to other people or your other characters.
There is a standard charge for messages (usually

5). The shipping cost is determined by the value of the item being shipped.
To send a message,
Enter the recipient's name in the To: field.
Enter a subject in the subject line (if you attach an item, it will default the subject line to the item name).
Enter a message (optional)
Drag an item to the box at the bottom left (optional)
If you are selling an item,

Enter the price in the money boxes
Check the Send COD radiobutton

If you are sending money,

Do not check the Send COD radiobutton

Click Send button when done.
=Mailbox locations
Edit
A separate article has been created to list the mailbox locations.
Community content is available under
CC-BY-SA
unless otherwise noted.