Quest reward from Inform the Magistrate's Representative.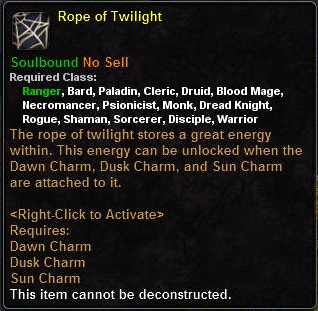 Rope of Twilight

Soulbound

No Sell

Required Class:

Bard, Blood Mage, Cleric, Disciple, Dread Knight, Druid, Monk, Necromancer, Psionicist, Ranger, Rogue, Shaman, Sorcerer, Warrior

The rope of twilight stores a great energy
within. This energy can be unlocked when the
Dawn Charm, Dusk Charm, and Sun Charm
are attached to it.

<Right-Click to Activate>
Requires:
Dawn Charm
Dusk Charm
Sun Charm
This item cannot be deconstructed.
{{#if:||














See also: