Objective
Edit
Gwartak Lookouts Slain (5)
Kill Gwartak lookouts outside the maw of the Gwartak Stronghold, or within the Stronghold itself, and return to Darra Nightbellow at Rille's Encampment.
...The Gwartak Kobolds have established a stronghold not far from here in the caves to the east...Before you can venture into the caves, however, you will need to silence their lookouts and prevent them from alerting the others inside...
Locations
Edit
XP: 281

50
Starting Dialogue
Edit
Additional Dialogue
Edit
Concluding Dialogue
Edit
Detailed Information
Edit
The stronghold is located a short distance to the east beyond a bone fence.
Gwartak Lookout Level 4-5 (Humanoid, Kobold, 2 dot, aggro)
Screenshots
Edit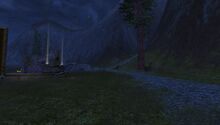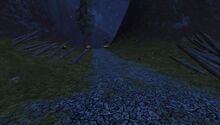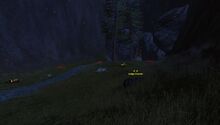 Community content is available under
CC-BY-SA
unless otherwise noted.