Objective
Edit
Spirit Summoner Charm (4)
Collect spirit summoner charms from Gwartak spirit summoners within the Gwartak Stronghold, then bring them to Darra Nightbellow at Rille's Encampment.
...These mystical kobolds use powerful magic charms to summon the spirits of long dead Gwartak of the Stoneburn War...
Locations
Edit
Choice of:

70
XP: 692
Starting Dialogue
Edit
Additional Dialogue
Edit
Concluding Dialogue
Edit
Detailed Information
Edit
Gwartak Spirit Summoner Level 8 (Humanoid, Kobold, 2 dot, aggro) and are accompanied by Gwartak Spirit (Humanoid, Kobold, 1 dot, aggro)
Screenshots
Edit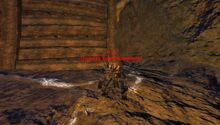 Community content is available under
CC-BY-SA
unless otherwise noted.