Still Water
Sphere
Adventuring
Journal Level
4
Journal Size
Solo
Level Offered
xx
Prerequisites
Starting Location
-2176, 30258, 97725 in Bordinar's Cleft (-28, 26)

128|-28|26|-2176, 30258, 97725,Borinn Darkshank||||||||

Area
Starting Chunk
Bordinar's Cleft
Ending Chunk
Bordinar's Cleft
Offered By
Borinn Darkshank
Quest Series
none
Previous
Concurrent with:
Next
XP Reward
Coin Reward
40
Free to Play
yes
Repeatable
no
Faction Needed
Presence Needed
Objective
Edit
Find Evidence of the Creature
Search the waters of Delmerin Tarn for evidence of the beast's existence. Return to Borinn Darkshank overlooking the lake from its wester cliffside.
Locations
Edit
Starting Dialogue
Edit
Additional Dialogue
Edit
Concluding Dialogue
Edit
Detailed Information
Edit
There is no quest indicator over this NPC. You must talk to him and say "umm...I believe you.".
He gives a water breathing potion. Most people suggest that you do not complete this quest and keep the reuseable potion.
Screenshots
Edit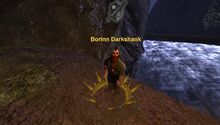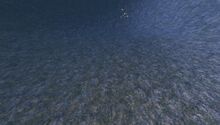 Community content is available under
CC-BY-SA
unless otherwise noted.