Objective
Edit
Speak with Miner Pikebrand outside Coppermend's Delving. On the way, speak with Mason Stoneaxe. Coppermend's Delving can be found by travelling on the path located southeast of Warden Amma Shalepeak's location.
Locations
Edit
Mason Stoneaxe
Warden Amma Shalepeak
Miner Pikebrand
Choice of:
Starting Dialogue
Edit
Additional Dialogue
Edit
Concluding Dialogue
Edit
Detailed Information
Edit
Mason Stoneaxe 63740, 58309, 98611 in Bordinar's Cleft (-28, 26)
Miner Pikebrand 26740, 91805, 92923 in Bordinar's Cleft (-28, 26)
This quest may be broken. NPC's do not provide options that advance quest.
When dropping this quest I was then able to speak to Mason Stoneaxe for the Collecting Trophies quest (1/1/2012).
Screenshots
Edit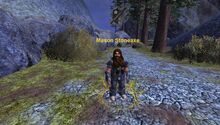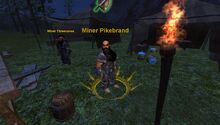 Community content is available under
CC-BY-SA
unless otherwise noted.