Objective
Edit
Speak with Boden Cloudhammer, who brings supplies from Bordinar's Cleft. After helping him, travel further along the road to speak with Warden Amma Shalepeak.
...I have two friends who monitor the mountainside for trouble. Their names are Boden Cloadhammer and Amma Shalepeak...
Locations
Edit
Boden Cloudhammer
Warden Amma Shalepeak
Starting Dialogue
Edit
Additional Dialogue
Edit
Concluding Dialogue
Edit
Detailed Information
Edit
Boden Cloudhammer (13964, 12874, 95893 in Bordinar's Cleft). Talked to him and completed his two quests (Recovering the Supplies, Securing Boulder Pass).
Warden Amma Shalepeak (42263, 10906, 96936). Talked to her and completed her two quests (Trouble Across the Bridge, Report to Drovin at Bordinar's Gate).
Quest may be broken.
It appears Captain Zaelmia Mountainheart is part of this quest as it appears in her list when you talk to her.
Screenshots
Edit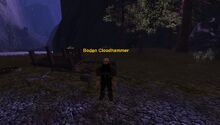 Community content is available under
CC-BY-SA
unless otherwise noted.