Updating Kolar
Sphere
Journal Level
8
Journal Size
Solo
Level Offered
8
Prerequisites
None
Starting Location
Please add a starting location
Area
Coppermend's Delving
Starting Chunk
Bordinar's Cleft
Ending Chunk
Bordinar's Cleft
Offered By
Stend IronBrow
Quest Series
Bordinar's Cleft Adventure Timeline
Previous
none
Concurrent with:
none
Next
none
XP Reward
 ?
Coin Reward
 ?
Free to Play
yes
Repeatable
no
Faction Needed
 ?
Presence Needed
 ?
Level
8
Coins Rewarded
70 c
Starts at NPC
Defender Sten Ironbrow
Related Mobs
Defender Blute Kolar
Starts In Zone

Bordinar's Cleft
Coppermend's Delving

Objectives
Deliver Report to Defender Blute Kolar
Description
1) Speak to Defender Sten Ironbrow in Coppermend's Delving in Bordinar's Cleft. He will give you a Status Report. 


2) Deliver the Status Report to Defender Blute Kolar in Coppermend's Delving.

Items Needed
Screen Shots
Edit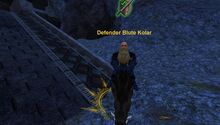 Community content is available under
CC-BY-SA
unless otherwise noted.