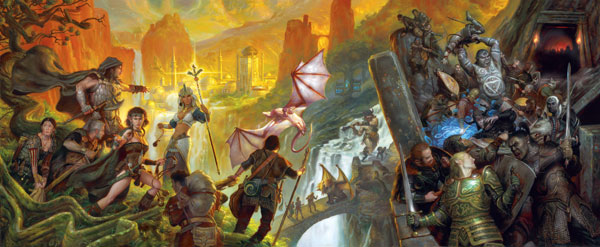 Greetings Telonians,
How's it going? Last month we announced some exciting sunset plans to keep you all entertained over the coming months. This included double experience, sale prices on Station Cash items, an anniversary contest, anniversary present, and the devs even opened up some previously unexplored zones. While we had hoped that we would get to release much more content for you to enjoy, that sadly isn't in the cards right now.

However we are planning on doing some Wikia things over the next few months as well. Over on this forum thread a fellow Telonian asked about doing a tribute to the late Keith Parkinson. While it didn't make sense to us to post something like that on the Vanguard website or forums because those will disappear after Vanguard sunsets, this totally makes sense to put up on the Vanguard and EverQuest wikias. We're not for sure how this will work yet but we will let you know that we're talking to Keith's official representatives about doing something on this front. As we find out more, we'll let you know!
Additionally, while we wholly encourage you to go off and start your own communities, we want to remind everyone of the official Vanguard wikia and its capabilities. I've went ahead and started a characters section and filled out one of my characters – Yaviey. Please feel free to use this as a template to input your own characters in so that your those characters will continue to live on after Vanguard closes. Just make sure to add the category "Characters" so it shows up on the Characters category page. And I'm sure some of you will have even more ideas on how to make this template even better so feel free to give it a go. There are also sections on the Wikia for guilds and memories. Don't forget to fill those out!
If you have any questions regarding the wikia stuff, please post them in the comments here. Otherwise, feel free to hit me up on the Vanguard forums. Cheers!
-Yaviey, Wiki Project Manager @ SOE (talk) 23:50, March 5, 2014 (UTC) 
Community content is available under
CC-BY-SA
unless otherwise noted.